Holiday family activity ideas by Parks, Recreation and Culture
NEWS RELEASE - Distributed December 17, 2020 1:00 PM
Summary
The City of Nanaimo understands that this holiday season will be different for many due to the pandemic. Events like the popular Winter Wonderland and Finale are unable to happen this year, but there are still many activities that families can participate in together while following Provincial Health Orders that will keep everyone active while on this year's winter break. Families needing some inspiration are invited to look at the "Family Activity Ideas" list that was compiled by Parks, Recreation and Culture staff.
This list contains a variety of options, including information on the "Holiday Skating Schedule", "The Frosty Bucket Challenge" and the "Light Up the Night Family Field Fun" where families can have unstructured play under the lights on some of Nanaimo's play fields. Other opportunities for holiday fun include visits to newly opened parks like Cambie Park and the Harewood Skate Park and watching videos of staff offering craft tips and explorations to local parks and trails. Other than the swimming and skating admission, all of the suggestions on the list are free.
Find and download the list on the City of Nanaimo website and follow Parks, Recreation and Culture on their Instagram page (@nanaimoparksandrec) for even more holiday fun.
Link to Strategic Plan: Providing low-cost recreation supports livability in the community.
Key Points
The list of free and low-cost Family Activity Ideas is comprised of things that families can do over the winter break.
The activities suggested all follow COVID-19 safety protocols.
Quotes
Images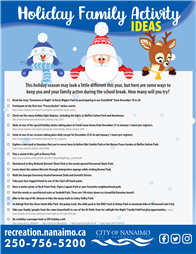 Attachments
-30-
Contact:
Lynn Wark
Director, Recreation and Culture
City of Nanaimo
250-755-7512