New mountain bike skills park opens in Nanaimo
NEWS RELEASE - Distributed September 4, 2020 12:15 PM
Summary
Nanaimo has long been recognized for its amazing mountain biking areas with vast trails that extend throughout the city. A new mountain bike skills park located near the popular Steve Smith Bike Park along Labieux Road is providing another opportunity to experience the thrills of mountain biking while gaining new skills and building confidence.
A mountain bike skills park is made up of family-friendly trail options for beginner, intermediate and advanced riders. It is often a safe, central place for riders to learn to ride single track trails, do tricks and ride obstacles, such as bridges, rocks and rails, before riding the many levels of mountain biking trails that are found throughout the Nanaimo region.
This park, along with new bike facilities at Steve Smith, was identified in the 2015 Beban Park Master Plan as a priority. The ideas came through a public process and then were refined through design charrettes in 2016. The Gyro Club of Nanaimo was also part of the initial idea brainstorming, as well as many members from the local bike clubs. The Stevie Smith Legacy Foundation contributed financially to the mountain bike skills park project.
The new park is being described as a progressive skills park to help newer and more experienced riders gain skills and confidence. There are multiple runs that offer challenges at every skills level. Bridges, rocks and plank rides, jumps, as well as a progressive drop section are found throughout the park.
Although it has only been opened to the public for a couple of weeks, this new skills park is already proving to be a popular destination with many riders of all levels participating on a regular basis and is a great asset to the Steve Smith Bike Park, the pump track and the Marie Davidson BMX Track - all found at Beban Park.
Link to Strategic Plan: Enhancing parks and open spaces is a great way to enhance the livability of the community for its citizens.
Key Points
The Mountain Bike Skills Park is a great complement to the Steve Smith Bike Park, the pump track and the Marie Davidson BMX Track found at Beban Park.
The Mountain Bike Skills Park will help all levels of mountain bikers gain skills and confidence in mountain biking.
Quotes
Images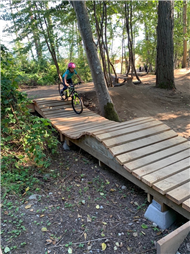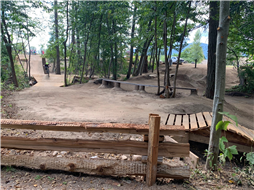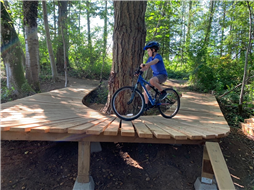 -30-
Contact:
Charlotte Davis
Manager, Parks Operations
City of Nanaimo
250-755-7505