Nanaimo turns on lights at Serauxmen Stadium
City's first lit baseball field
NEWS RELEASE - Distributed July 13, 2020 11:04 AM
Summary
The City of Nanaimo now has its first lit baseball field at Serauxmen Stadium located along Third Street. This project is one of the first phases of a multi-phased development plan for Serauxmen Stadium.
The project cost was just under $1.1 million. The new LED field lights consist of a sports lighting system that includes eight new lighting poles reaching 70 to 80 feet in the air. The LED lights are designed to provide specific lighting levels to the field level for optimal playability, including up-lighting into the sky for those long hit balls to centre field. These lights will greatly improve opportunities for baseball teams in Nanaimo by lengthening their seasons and giving players more hours of play.
As part of negotiations between the City of Nanaimo and Nanaimo Ladysmith School District, the City secured the purchase of the Serauxmen Stadium and Rotary Bowl in 2017. This field lighting project is in line with the early plans presented to Council in January 2019 regarding planned improvements to Serauxmen Stadium in partnership with the Serauxmen Stadium Amateur Baseball Association. An overall improvement plan for Serauxmen Stadium is being developed currently and will be presented to City Council in the near future.
Link to Strategic Plan: Providing enhancements to our play spaces supports a livable community.
Key Points
Serauxmen Stadium was originally a baseball field built by Nanaimo Minor Baseball Association. It is one of the oldest baseball fields in Nanaimo.
This project includes new LED lighting and a new scoreboard.
Quotes
Quick Facts
In 1972, Nanaimo Minor Baseball Association (NMBA) signed an agreement with the school district to build a baseball field on an old mine site behind Nanaimo District Secondary School which later developed into Serauxmen Stadium.
Serauxmen Stadium officially opened July 31, 1976 in a ceremony that included retired New York Yankees player Mickey Mantle and retired Boston Red Sox player Jim Piersall. Hockey players Johnny Bucyk (Boston Bruins) and Chris Oddleifson (Vancouver Canucks), football players George Reed (Saskatchewan Roughriders) and NHL referee Llyod Gilmour also attended.
Images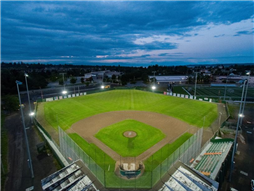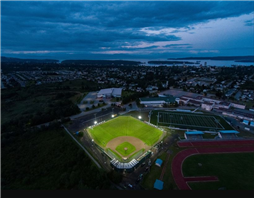 -30-
Contact:
Art Groot
Director, Facility and Parks Operations
City of Nanaimo
250-755-7542