Nanaimo takes a proactive approach to raise awareness of preventable fires
Everyone has a role to play in preventing brush/wild fires
NEWS RELEASE - Distributed August 13, 2019 3:40 PM
Summary
Nanaimo Fire Rescue is launching a new awareness campaign to draw the community's attention to how quickly a fire from a tossed cigarette can spread. In the summer months, when the ground is dry, fire crews respond to numerous preventable fires started by the improper disposal of cigarettes. Together we can protect our community and environment from human caused fire.
Link to Strategic Plan: The City of Nanaimo is committed to Public Safety and protecting the environment.
Key Points
Nanaimo Fire Rescue has attended 37 brush fires this year.
Tossing a cigarette (or cigarette butt) can have devastating impacts on lives and destroy structures and properties at a rapid pace, especially, in these extremely dry conditions. Be responsible. Be mindful. Extinguish your cigarettes or cigarette butts responsibly.
Quotes
Images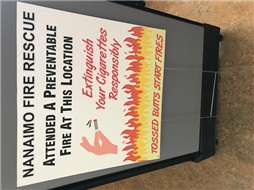 -30-
Contact:
Umesh Lal
Fire Prevention Officer
Nanaimo Fire Rescue
250 755-4565