Fire Station Open House
NEWS RELEASE - Distributed June 14, 2019 12:00 PM
The community is invited to Fire Station 4 for an open house event on Wednesday, June 19 from 3:00- 7:00 pm.
There will be opportunities for kids and adults to learn about bystander CPR, fire extinguishers, fire safety, emergency preparedness, tips on fire smarting your property and more! Tour an engine and go in the Fire Safety House. Support the Nanaimo Professional Fire Fighters Charitable Society by participating in their fundraising BBQ.
"This is our first open house and plan for future ones annually", said Chief Karen Fry. "As this is a working fire station we will keep the road blocked off for fire department vehicles only. Parking may be found at lots nearby. "
Fire Station #4 is located at 1425 Cranberry Avenue, Nanaimo BC.
Images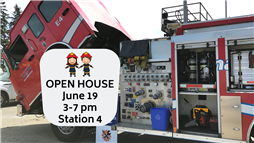 -30-
Contact:
Karen Fry
Fire Chief
City of Nanaimo
250-755-4583