Active Transportation Month is almost here
Get ready to Go By Bike, Bus, or Foot!
NEWS RELEASE - Distributed May 26, 2019 9:00 AM
Summary
Annual Bike to Work and School, Go by Bike, and Commuter Challenge Events are gearing up for another year of celebrating Active Transportation. Spring Go By Bike starts May 27th with Commuter Challenge starting June 2. Each event runs for a week with various events and activities through out the City.
Link to Strategic Plan: Bike to Work and School, Go By Bike, and Commuter Challenge events support healthy and sustainable mobility within our City.
Key Points
Active and Sustainable Transportation is a Key to mobility for the City.
Active Transportation promotes health, reduces pollution, and makes City's more livable.
Quotes
Quick Facts
The City of Nanaimo is working toward doubling Active Transportation Trips by 2041.
Images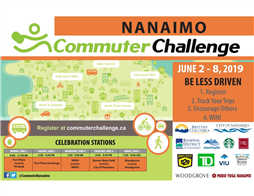 -30-
Contact:
Jamie Rose
Manager of Transportation
City of Nanaimo
250.754.4251