Nanaimo & District Celebrating Water to Earth Month
NEWS RELEASE - Distributed March 22, 2019 8:00 AM
The City of Nanaimo, along with several other community groups, is celebrating Water to Earth month this spring. Water to Earth month celebrates both World Water Day and Earth Day with a line-up of events throughout the month of March and into April.
"It is important to remember how we are all connected, from the clean water we drink to the natural environment that surrounds us," says, Recreation Coordinator, Deb Beck, "We need to be mindful of protecting the balance of these ecosystems."
Residents are invited to learn more about the local environment and celebrate the watersheds that support the Nanaimo and District area through one of the many land and water tours, film nights and educational events that will be offered. This month-long series of events will wrap up with a number of work party opportunities and an Earth Day Celebration at John Barsby Community School on Saturday, April 27 from 10 am - 3 pm. The City of Nanaimo will have a booth set up at the celebration where residents can purchase $25 tree vouchers to redeem for a fruit or coniferous tree at Green Thumb Garden Centre.
Water conservation and environmental protection are values shared by everyone and the City is happy to partner on this initiative, because every drop counts! Visit getinvolved.rdn.ca/team-watersmart to view a detailed community calendar of events including a WaterSmart Workshop, Earth Hour Glow in the Dark Skate, Nanaimo Rafting and Stream Walk.
Images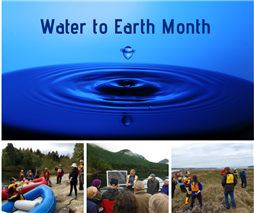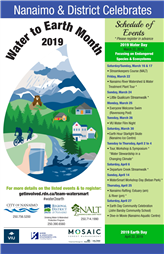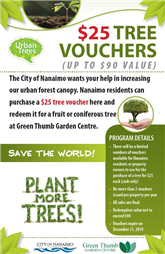 -30-
Contact:
Deborah Beck
Recreation Coordinator
City of Nanaimo
250-756-5200