Holiday hours for City offices and recreation facilities
NEWS RELEASE - Distributed December 19, 2018 10:00 AM
The City of Nanaimo reminds residents to check the Parks and Recreation public schedules on the City's website for updated information on holiday swimming, skating and drop-in gym sessions. As well, all City recreation facilities and offices will be closed on Christmas Day (Tuesday, December 25), Boxing Day (Wednesday, December 26) and New Year's Day (Tuesday, January 1), with the exception of special Boxing Day and New Years Day swimming and skating sessions.
"Attend some of the fun events with friends and family this holiday season and stay active," says Elizabeth Williams, Manager of Recreation Services, "take advantage of the many indoor and outdoor recreation opportunities available throughout December."
Information on Parks and Recreations events such as Skate with Santa, Winter Wonderland skating, Dunk with Santa, holiday camps, public schedules and more can be found at at recreation.nanaimo.ca.
Images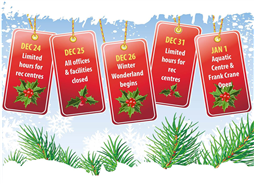 -30-
Contact:
Elizabeth Williams
Manager, Recreation Services
City of Nanaimo
250-755-7526