2018/19 City of Nanaimo Street Banners Installed
This year's design by Robert Plante
NEWS RELEASE - Distributed June 27, 2018 11:23 AM
In late 2017, the City of Nanaimo invited all amateur and professional artists to submit designs for the 2018/19 Street Banner Design Competition. Submissions were received by eight artists. The successful banner design, by local artist Robert Plante, has now been installed on lamp posts on major streets throughout Nanaimo.
"Street banners grace many streetlight poles during the spring and summer seasons creating a fun and festive atmosphere," said Chris Barfoot, Culture & Heritage Coordinator, "The City's street banner program aids in the promotion of Nanaimo and its offerings, and adds colour and excitement to Nanaimo."
This year's banner design reflects Nanaimo and what makes it unique. Having immigrated to Nanaimo from the Netherlands in 2009, Robert Plante is very active in the community with one of his goals being to help Nanaimo be a great place to live.
The banner program has been brightening our city streets and corridors for close to 30 years.
Images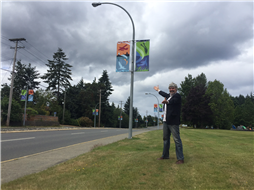 -30-
Contact:
Chris Barfoot
Culture & Heritage Coordinator
City of Nanaimo
250-755-7522
Main Office
Community & Cultural Planning
City of Nanaimo
250-755-4483