Lifeguards on Duty at Westwood Lake
NEWS RELEASE - Distributed June 13, 2018 8:00 AM
Summary
City of Nanaimo Parks and Recreation is reminding residents and visitors that lifeguards will be on duty daily from 12 - 6 pm at Westwood Lake.
Throughout the summer, the City will also be offering a number of swimming lessons and day camps in Westwood Lake Park. In August, join staff for an afternoon of Hawaiian-themed games with the Hawaiian Holidaze Aquatic Event. More information on summer programs and events can be found in the Spring and Summer Activity Guide.
Strategic Link: Cultural Vitality; Taking Responsibility to be an Excellent Municipal Government
Key Points
From June 24 until September 3, lifeguards will be on duty at Westwood Lake daily from 12 - 6 pm including Canada Day, BC Day and Labour Day. Weather dependant.
To register for swimming lessons, Mermaid Camp, Survivor Swim Camp, Discover Paddleboarding class and more visit ireg.nanaimo.ca or call 250-756-5200.
Hawaiian Holidaze, a free special event, will be held at Westwood Lake Park from 1:00 pm to 3:00 pm on Friday, August 10.
Quotes
Images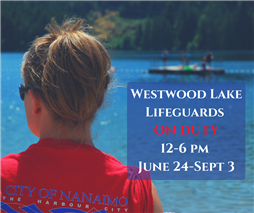 -30-
Contact:
Taz Hartwick
Recreation Coordinator - Aquatics
Cit of Nanaimo
250 756 5243