City of Nanaimo Celebrates National Health & Fitness Day June 2
NEWS RELEASE - Distributed May 30, 2018 8:00 AM
The City of Nanaimo is one of 300+ communities across Canada who have proclaimed the first Saturday in June as National Health and Fitness Day. The goal of this initiative is to strive towards making Canada the fittest Nation on Earth!
"We are lucky here in Nanaimo that we have drop in fitness activities, beautiful parks and playgrounds available to us almost everyday," said Cheryl Krytor, Recreation Coordinator, "However, celebrating National Health & Fitness Day allows the community an opportunity to try a new activity and are reminded to take a moment to move."
There will be swimming and the weight room available at Beban Pool and Nanaimo Aquatic Centre. There are several Aquafit sessions happening at the Nanaimo Aquatic Centre and Oliver Woods Community Centre are running Floor Hockey and Gym Pals. For the full list please search Public Schedules at www.nanaimo.ca or find the event on City of Nanaimo Local Government Facebook page.
Images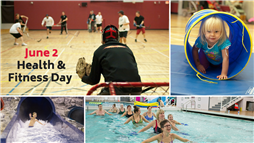 Links
-30-
Contact:
Cheryl Krytor
Recreation Coordinator
City of Nanaimo
250-756-5285