The Nanaimo Recycling Exchange has closed
NEWS RELEASE - Distributed March 21, 2018 11:00 AM
Summary
The City of Nanaimo has learned that the Nanaimo Recycling Exchange (NRE) is now closed.
As a result of the closure, City staff would like to remind residents of their remaining depot disposal options.
Link to Strategic Plan: n/a
Key Points
The NRE is now closed, residents can no longer take any items to this location.
Residents are asked to refresh themselves on their remaining depot options, a shortlist of which is attached to this media release.
Residents are encouraged to download the Nanaimo Recycles App from Google Play or the Apple Istore in order to get an exhaustive list of disposal options. These tools are also available at nanaimo.ca/goto/garbagecalendars
Most items that were accepted at the NRE can still be recycled in our community.
Quotes
Quick Facts
Plastic bags, glass and styrofoam can be taken to the Regional Recycling locations at 2375 Hayes Road and 839 Old Victoria Road. Alpine disposal at 2250 McGarrigle Road will also take these items.
Yard Waste can be disposed of at Alpine disposal at 2250 McGarrigle Road, DBL Disposal at 333 Tenth street and at the RDN landfill at 1105 Cedar Road.
Images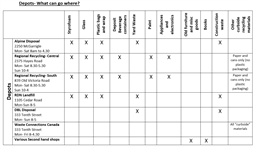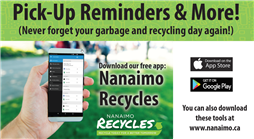 -30-
Contact:
Charlotte Davis
Manager of Sanitation, Recycling and Public Works Administration
City of Nanaimo
250 756 5307