Life-saving device stolen from Beban Park
NEWS RELEASE - Distributed February 14, 2018 4:00 PM
Summary
The City of Nanaimo is asking for the public's help in recovering the Automated External Defibrillator (AED) which was located at the Merle Logan Artificial Turf Field at Beban Park. It is believed the device was stolen sometime earlier this week. An AED automatically diagnoses the life-threatening cardiac arrhythmias and is able to treat them through defibrillation, allowing the heart to reestablish an effective rhythm.
Anyone with information on the whereabouts of the AED, are asked to contact the RCMP non-emergency line or Crime Stoppers.
Strategic Link: n/a
Key Points
To provide information on the location of the device, please contact the Nanaimo RCMP non-emergency line at 250-754-2345 or anonymously to Crime Stoppers at 1-800-222-8477.
The AED, installed in 2014, will cost approximately $2,000 to replace.
Quotes
Images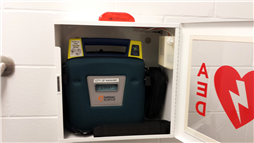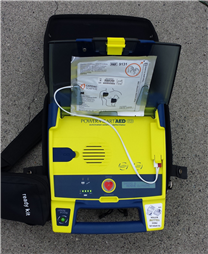 -30-
Contact:
Mark Demecha
Manager of Civic Facilities
City of Nanaimo
250-756-5206