Sheryl Armstrong sworn in as Nanaimo City Councillor
NEWS RELEASE - Distributed July 18, 2017 4:00 PM
Summary
Nanaimo's new City Councillor, Sheryl Armstrong, was officially sworn in today during a ceremony held at the Vancouver Island Conference Centre. Councillor Armstrong was the successful candidate during the recent July 8th by-election.
Link to Strategic Plan: N/A
Key Points
Prior to winning her seat on Council, Councillor Armstrong served 35 years with the Royal Canadian Mounted Police. She is currently an active member of several community groups including chairperson for the Dufferin Place Family Council, secretary for the Vancouver Island Family Council and volunteer at the Kids for Kids program at Georgia Avenue School.
Armstrong will attend her first open Council meeting on July 24.
Quotes
Quick Facts
With a total of 3611 votes captured, Armstrong was the successful frontrunner to fill the vacant seat on City Council.
A total of 7390 valid votes were cast.
Images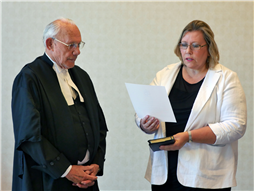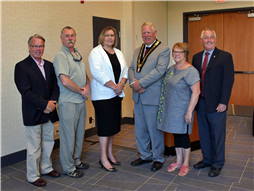 Videos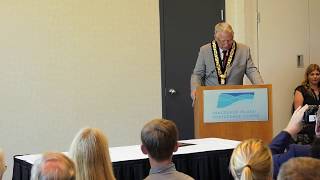 -30-
Contact:
Philip Cooper
Communication and Engagement Director
City of Nanaimo
250-755-4532