2017 By-Election preliminary results now available
NEWS RELEASE - Distributed July 8, 2017 8:46 PM
Summary
The City of Nanaimo is pleased to release the preliminary results of the 2017 By-Election.
With a total of 3611 votes, Sheryl Dawn Armstrong is the frontrunner to fill the vacant seat on City Council. The official results will be declared by Wednesday, July 12 when the count is finalized.
To view the preliminary results, please see the online version of this news release.
Strategic Link: N/A
Key Points
Voter turnout was 10.97 per cent of registered voters. In comparison, voter turnout for the 2011 by-election was 10.1 per cent of registered voters.
A total of 7390 valid votes were cast.
Residents can learn more about the preliminary results at Monday night's (July 10) Regular Council Meeting at 7:00 pm in the Vancouver Island Conference Centre's Shaw Auditorium, on Shaw Channel 4 or on the City website.
Quotes
Images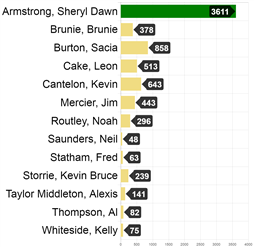 Attachments
-30-
Contact:
Sheila Gurrie
City Clerk and Chief Election Officer
City of Nanaimo
250-755-4494