Voting in by-election ends 8:00 pm Saturday, July 8
Preliminary results to be made available as soon as possible
NEWS RELEASE - Distributed July 6, 2017 12:00 PM
Summary
Nanaimo residents are reminded that voting ends at 8:00 p.m. on Saturday, July 8, with preliminary election results being made available as soon as possible after that. Results can be viewed on the City of Nanaimo website.
Advance Voting Turn Out:
The June 28 and July 5 Advance Voting Opportunities brought out 1,332 voters compared to 500 total advanced votes cast in the 2011 By-Election.
For more information on the 2017 By-election, visit www.nanaimo.ca/goto/elections
Link to Strategic Plan: N/A
Key Points
Preliminary voting results will be available after 8:00 pm on Saturday, July 8 in the Vancouver Island Conference Centre's Shaw Auditorium (101 Gordon Street) and on the City website. Members of the public and media are invited to view the results.
Official results will be declared no later than July 12 at 4:00 pm.
For residents who plan to vote at Randerson Ridge Elementary, due to road work on Rutherford and Nelson Roads, access is only available on Turner Road.
Quotes
Quick Facts
To vote you must be 18 or older, a Canadian Citizen, a resident of BC for at least six months and a resident of Nanaimo for at least 30 days prior to the voting day. Please note: eligibility to vote is NOT dependent on owning property.
Videos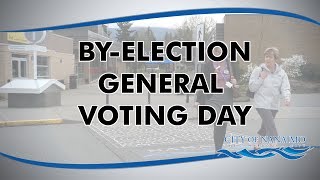 Attachments
-30-
Contact:
Sheila Gurrie
Chief Election Officer
Elections Office - City of Nanaimo
250-755-4494
Philip Cooper
Director, Communications and Community Engagement
City of Nanaimo
250-755-4532