Nanaimo's Poetry Walk to be unveiled with Inaugural Poet Laureate's poem.
City's newest cultural asset will be unveiled on Thursday March 23rd.
NEWS RELEASE - Distributed March 14, 2017 10:00 AM
Summary
The City of Nanaimo will unveil the first addition to it's Poetry Walk. Nanaimo's Inaugural Poet Laureate, Naomi Beth Wakan, will have one of her poems become the first instalment to the Nanaimo Poetry Walk on Thursday, March 23rd, outside the Port Theatre. The Poetry Walk will capture poems written by the outgoing Poet Laureate. This project highlights Nanaimo's support for Poetry and the Literary Arts and also reinforces the success of the Poet Laureate program, which began at the beginning of 2014.
Link to Strategic Plan: This project supports Nanaimo's Community Value of Cultural Vitality in the City of Nanaimo Strategic Plan by supporting culture as an integral part of everyday life in Nanaimo. Achieving cultural vitality includes: promoting Nanaimo's arts, creativity, heritage, cultural traditions and community wellness.
Key Points
Poetry to be unveiled on Thursday March 23, 2017 at 3 P.M. outside Nanaimo's Port Theatre.
Nanaimo's Poetry Walk will capture poems written by outgoing poet laureates every three years.
Quotes
Quick Facts
Nanaimo's Poetry Walk will be located outside the main entrances of the Port Theatre.
Poems to be included on the Poetry Walk will be written by the current Poet Laureate at the end of their term.
Images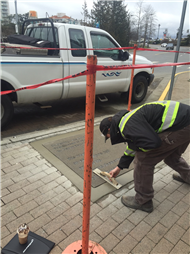 -30-
Contact:
Chris Barfoot
Culture and Heritage Coordinator
City of Nanaimo
250-755-4483