Referendum preliminary results for proposed events centre now available
NEWS RELEASE - Distributed March 11, 2017 10:00 PM
Summary
The preliminary results of the proposed events centre referendum (Non-Election Assent Voting) have been tallied.
80.3 per cent of voters were not in favour of Nanaimo Council City adopting Loan Authorization Bylaw 2017 No. 7237 which would authorize Council to borrow a sum not exceeding $80,000,000, repayable over a period of no more than 20 years, for the development and construction of an event centre that would include an ice arena and other related entertainment, cultural and recreation facilities
The official results will be declared by Wednesday, March 15 when the count is finalized. To view the preliminary results, please see the online version of this news release.
Link to Strategic Plan: N/A
Key Points
Voter turnout was 36.2 per cent of the registered voters, which was a 2.1 per cent increase in turnout compared to 2014 general election (34.1 per cent).
Residents can learn more about the preliminary results at Monday night's (March 13) Special Council Meeting at 7:00 pm in person at the Shaw Auditorium in the Vancouver Island Conference Centre, on Shaw Channel 4 or on the City website.
Quotes
Images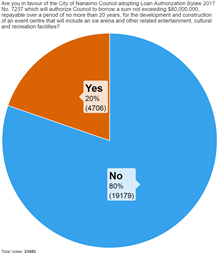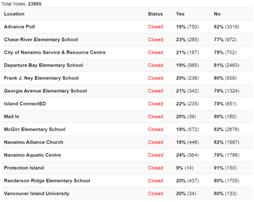 Attachments
-30-
Contact:
Sheila Gurrie
Acting City Clerk and Chief Election Officer
City of Nanaimo
250-755-4494