Temporary closures for Westwood Lake trail
Improvements to be made to boardwalk section
NEWS RELEASE - Distributed December 6, 2016 9:00 AM
Summary
Starting December 12, City of Nanaimo Parks Operations crews will be widening and replacing the 75 metre boardwalk on the northwest side of Westwood Lake. This section of the trail will be temporarily closed while crews work on the boardwork from Monday through Thursday between the hours of 7:00 am and 5:00 pm. All other sections of the 6 km trail will be open but trail users will not be able to complete the loop while the boardwalk is under construction.
Construction is expected to be complete by the end of January.
Strategic Link: Taking responsibility to be an excellent municipal government.
Key Points
City of Nanaimo crews will be replacing the boardwalk on the Westwood Lake trail from December 12 -23 and starting again on January 3 until completion.
Working hours for this project are from 7:00 am to 5:00 pm, Monday through Thursday. During the mentioned working hours sections of the lake trail will be closed to the public.
Signs have been posted along the trail to notify park users of closure areas.
Quotes
Images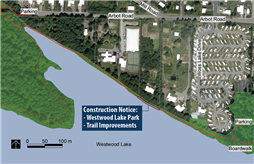 Links
-30-
Contact:
Al Britton
Manager, Parks Operations
City of Nanaimo
250-755-7505