Sewer upgrades to affect traffic on Bowen Road
NEWS RELEASE - Distributed December 5, 2016 11:30 AM
Summary
The Beban Plaza Sewer Upgrade project to replace the sanitary and storm sewers from Northfield Road to Bowen Road is well underway with the main sewer line installation complete from Northfield Road. Hazelwood Construction Services, working for the City, has reached the portion of the project that requires a deep cut across Bowen Road.
Starting this week, traffic patterns will be affected from 7:00 pm to 7:00 am on Bowen Road at Beban Plaza Mall as crews continue the replacement of storm and sanitary sewers. During this time, drivers are reminded to use caution and obey all signage and traffic control personnel.
Update: due to below freezing temperatures, the remainder of construction will be postponed until the New Year.
Strategic Link: This project supports the Asset Management priority.
Key Points
The work on Bowen Road is to take place Tuesday December 6 to Friday December 9 and Monday December 12 to Thursday December 15. During this time crews will be working through the night from 7:00 pm to 7:00 am.
Commuters are encouraged to follow the City's Facebook and Twitter accounts for updates.
Quotes
Images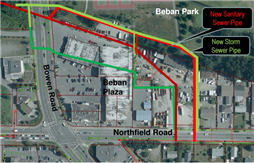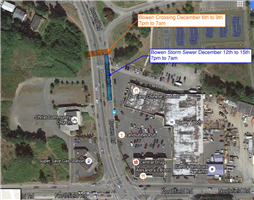 -30-
Contact:
Mike Strain
Construction Project Manager
City of Nanaimo
250-756-5222 ext. 5328