RBC Foundation Grant awarded to Learn to Skate Program for Nanaimo schools
Third year City is awarded grant
NEWS RELEASE - Distributed October 27, 2016 9:30 AM
Summary
The City of Nanaimo is pleased to have been awarded with a $10,000 grant from the RBC Foundation and its Learn to Play Program. The grant will assist in the development of the Learn to Skate program.
Representatives from RBC presented Councillors Bestwick and Thorpe with the grant during an on-ice Learn-to-Skate session in Frank Crane Arena on Wednesday, October 26.
Pictured in photo: Back Row: Robert Lee (RBC), Anne Kuzminski (RBC), Councill Ian Thorpe; Front Row: Matei Mateias (RBC), Learn-to-Skate particpant
Strategic Link: Supporting affordable and accessible lessons supports Social Equity and an Active Lifestyle.
Key Points
This is the third year the City has been awarded this grant.
Programmed lessons run in both the Beban Park and Nanaimo Ice Centre facilities from October to the end of March 2017
Quotes
Images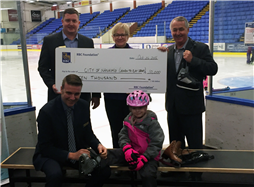 -30-
Contact:
Gary Paterson
Recreation Coordinator - Arenas
City of Nanaimo
(250) 755-7536