Welcome Back skating sessions open new fall season
Range of options has something for every member of the family
NEWS RELEASE - Distributed September 1, 2016 9:00 AM
Summary
Skating season in Nanaimo is now back in full stride with all four ice surfaces in operation. To ease the community back into the arena program and drop-in menu options, the City is hosting a number of special skating sessions including Everyone Welcome, Parent and Tot, Glow in the Dark, a special 'Twoonie' Drop-In sponsored by Ryan Vending, 'Family Skate' and two Senior Adult Leisure skate sessions.
The City encourages you to check out our full schedule online at www.nanaimo.ca or pick up an Activity Guide at various locations around the community.
Strategic Link: Active Lifestyle; Recreation, Culture, Sports and Tourism; Community Wellness
Key Points
Sessions begin on Tuesday, September 6.
A full schedule of drop-in events and programs is available in the Activity Guide.
Quotes
Quick Facts
All hockey drop-in programs are running starting on Tuesday, September 6, plus a variety of speciality skating session as marketed online and in the Activity Guide.
Images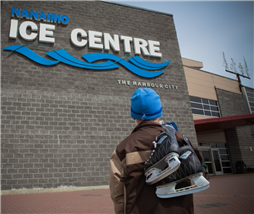 -30-
Contact:
Gary Paterson
Recreation Coordinator - Arenas
City of Nanaimo
(250) 755-7536