Fifty street trees planted in the Old City
Old City street and boulevard enhancement continues
NEWS RELEASE - Distributed April 25, 2016 1:00 PM
Summary
The Nanaimo Old City Association volunteers, with assistance from the City of Nanaimo, planted 50 ornamental plum, cherry, red maple and Katsura trees starting on Saturday April 23rd. The planting has been made possible through a BC Hydro re-greening grant awarded to the City of Nanaimo this past winter. This will be the fifth grant awarded to the City and neighbourhood groups. The result of these grants has been the addition of over 200 street trees that to date have significantly enhanced the beauty and vibrancy of the South End and Old City Neighbourhoods.
Strategic Link: This planting program supports the Environmental Pillar of the Strategic Plan and Module 3 of the Urban Forest Management Strategy.
Key Points
BC Hydro grants support re-greening initiatives.
Street tree planting programs support healthy neighbourhoods.
Quotes
Quick Facts
Over two hundred trees have been planted by volunteers on Machleary Street, Kennedy Street and Haliburton Street over the past decade using grants supplied by BC Hydro.
Images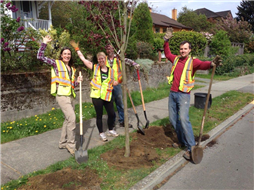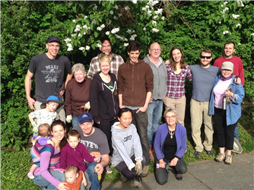 -30-
Contact:
Alan Kemp
Urban Forestry Coordinator
City of Nanaimo - Community Development
250 755 4460 loc 4357