Pipes replaced in Kin Pool
NEWS RELEASE - Distributed March 31, 2016 9:00 AM
Summary
The Kin Pool located in Bowen Park recently underwent a pipe replacement project. The original pool circulation piping had reached the end of its life and needed replacement to continue pool operations.
Work was completed in time for the upcoming Nanaimo White Rapids Swim Club swim season from early May to September.
Strategic Link: Asset Management
Key Points
Crews worked to remove the old pipes, install new ones, pressure test for leaks, install grounding cables and cement the pool deck.
The original pipes contained asbestos. Work was done to ensure the safe removal of the asbestos containing pipes and new PVC piping was installed.
Quotes
Quick Facts
The pool was built in partnership with the Nanaimo Kinsmen Club in the 1960's.
Kin Pool is operated by the Nanaimo White Rapids Summer Swim Club. It opens for public swimming on weekends at the beginning of June and daily at the end of June.
Images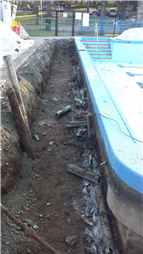 -30-
Contact:
Mark Demecha
Manager of Civic Facilities
City of Nanaimo
250-756-5206