City swaps land to facilitate hospital area redevelopment
NEWS RELEASE - Distributed March 8, 2016 3:00 PM
Summary
At the March 7th Council meeting, Council authorized a land exchange with a local developer to facilitate a multi-storey parking facility and medical offices across from Nanaimo General Hospital. Under the agreement, the City and the Developer are exchanging 82.7m2 (890 sq ft) of land. The City will benefit from a new trail connection to Beaufort Park and improved landscaping in the park. Final approval of the land exchange is subject to an Alternative Approvals Process.
Strategic Link: Asset Management - from a Parks, Recreation and Environment perspective this means exchanging lands that are mutually beneficial.
Key Points
The City and Canadian Cache Development Corporation will each exchange 82.7 m2 (890 sq ft) of land to create a rectangular parcel of land.
The land the City is exchanging is located within Beaufort Park. There will be no net loss to the size of Beaufort Park.
Under Section 27 (2) of the Community Charter, the exchange of Parkland requires the approval of the electors.
Canadian Cache Development Corporation intends to redevelop 1515 Dufferin Crescent into a new medical office building with multi-storey parking.
Quotes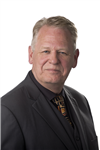 Images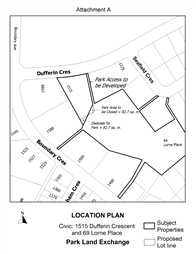 -30-
Contact:
Bill Corsan
Manager, Real Estate
City of Nanaimo
250 755 4426
Richard Harding
Director, Parks Recreation and Environment
City of Nanaimo
250 755 7516