Spring and Summer Activity Guide arriving next week
NEWS RELEASE - Distributed February 17, 2016 9:30 AM
Summary
With two out of three groundhogs predicting an early Spring, the City of Nanaimo would like to announce that the Spring and Summer Activity Guide will soon be available to view on the City website and pick up at City recreation centres and local malls, groceries stores and libraries.
The guide features a variety of programs and events for all ages at facilities and parks throughout Nanaimo as well as information on other community programs. Registrants can sign up for programs such as yoga hikes, tennis lessons, gentle ballet, guitar lessons, youth band, bread making, Spanish conversation, junior river stewards, swimming lessons at Westwood Lake and skating lessons.
Strategic Link: The Spring and Summer Activity Guide supports the Cultural Vitality pillar by promoting a broad concept of culture encompassing creativity/innovation, arts, heritage, ethnicity, sport, recreation and leisure lifestyles.
Key Points
The Spring and Summer Activity Guide can be viewed on the City website starting Wednesday, February 24 and will be available to pick up on Saturday, February 27 at City of Nanaimo recreation centres along with local grocery stores, malls and libraries.
Registration for spring and summer programs opens on Wednesday, March 2.
To get an online registration account and for more information on online registration, please call 250-756-5200.
Quotes
Images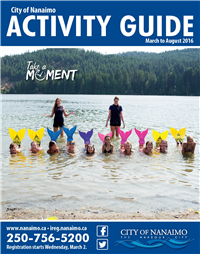 -30-
Contact:
Tracy Loewen
Communications and Marketing Specialist
City of Nanaimo
250-755-7527