2015 Green Nanaimo and Design Awards handed out
NEWS RELEASE - Distributed January 29, 2016 2:15 PM
Summary
The winners of the 2015 Green Nanaimo and 2015 Design Awards were celebrated at a luncheon in Beban Park on January 28.
The Green Nanaimo Awards recognize individuals, local businesses, schools and non-profit groups throughout Nanaimo that make valuable contributions to the City's environment by effectively enhancing, preserving or protecting the local environment, and encouraging environmental stewardship.
The 2015 Green Nanaimo Awards recipients are: Mr. Andre Sullivan, Departure Bay Elementary Eco-School, Pacific Gardens Co-Housing, Ms. Diana Kirsh and Jenn Bogwald.
The Design Awards recognize significant design constributions to development in Nanaimo.
The 2015 Design Awards were handed out to: Delinea Design Consultants Ltd, Westmark Construction, 0834824 BC Ltd, Jackson Low, Architect, Windley Contracting Ltd., Optimal Jakk Holdings Inc., Hazelwood Home Building Ltd., Hazelwood Construction Services Inc., Island West Coast Developments, Lochaven Holdings Ltd., Hazelwood Holdings Ltd., Paul Hammond, Architect, Windley Contracting Ltd., Pacific Housing Advisory / City of Nanaimo, Small & Rossell Landscape Architects, Three Point Motors, David Leahy, Century Group Inc. and Vancouver Island Regional Library.
Strategic Link: Environmental Responsibility, Community-Building Partnerships, Taking Responsibility to be an excellent municipal government
Key Points
The 2015 Green Nanaimo and 2015 Design Awards were handed out on January 28 at a luncheon in Beban Park.
Design Awards are given out to the following categories: Commercial Development, Commercial Renovation, Industrial Development, Multi-Family Development, Public Institution Development, Landscape/Rain Water Management Development, Old City Multi-Family Renovation and Public Institution Renovation.
Green Nanaimo Awards are given out in the following categories: Healthy Living, Environmental Awareness, Energy Conservation and Green Home and Neighbourhood.
Quotes
Images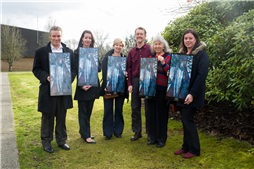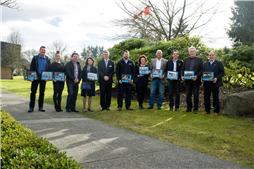 -30-
Contact:
Rob Lawrance
Environmental Planner
City of Nanaimo
250-755-7582
Gary Noble
Development Approval Planner
City of Nanaimo
250-755-4429 Ext: 4302