Practice Physical Distancing While in the Parks and on the Trails
To Stop the Spread of COVID-19
NEWS RELEASE - Distributed April 7, 2020 10:05 AM
Summary
To stop the spread of COVID-19, the City of Nanaimo is reminding residents to always practice physical distancing while in Nanaimo's parks and while on the trails. Physical distancing is defined as being at least two metres (6 feet) away from anybody who is not part of your household.
To help remind citizens of this important practice, signs have been produced and have been installed in parks and at trailheads. These signs provide a list of "do's" and don'ts" while recreating in the outdoors, including using these areas only if you are healthy and without any symptoms of the virus.
Link to Strategic Plan: The City of Nanaimo is committed to the safety and well-being of its residents.
Key Points
Social/physical distancing has been shown to be effective in preventing the community spread of COVID-19.
City of Nanaimo facilities, playgrounds, fields, tennis courts, pickle ball courts, gated dog off-leash areas and other amenities remain closed to prevent the spread of COVID-19.
Quotes
Images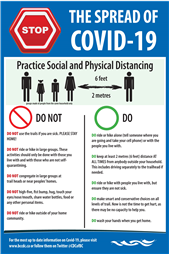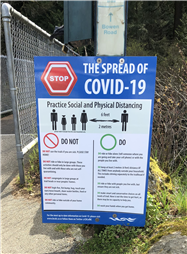 -30-
Contact:
Art Groot
Director, Facility & Parks Operations
City of Nanaimo
250-755-7542