Nanaimo Fire Rescue launches new rescue boat
NEWS RELEASE - Distributed April 15, 2019 10:48 AM
Summary
Nanaimo Fire Rescue is excited to have a new inland water rescue boat in service. The new 17 foot rigid hull inflatable is capable of navigating extremely shallow depths due to the outboard motor being equipped with a jet drive instead of the usual propeller drive. This jet drive reduces the depth of water needed for the boat to travel in and increases access to shallow areas.
Crews have been out the past month familiarizing and training on the new boat and are pleased with its increased capabilities.
Strategic Link: The City of Nanaimo is committed to Public Safety
Key Points
The new rescue boat replaces a previous smaller zodiac which was in use for over 15 years
Fire crews will be able to respond to rescue related incidents on City of Nanaimo lakes.
Quotes
Images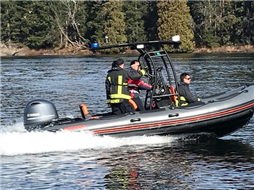 -30-
Contact:
Brad Wood
Assistant Chief
Nanaimo Fire Rescue
250 753-7311