Large amount of garbage illegally dumped on city street
NEWS RELEASE - Distributed August 27, 2018 1:00 PM
Summary
On Sunday, August 26, 2018 in the early morning hours, the City of Nanaimo was made aware of a large amount of household garbage that had been dumped on a city street. It had been carelessly dumped just prior to that.
Anyone with any information in regards to this crime are asked to please contact the City of Nanaimo at 250-755-4422, the RCMP at 250-754-2345 or call Crimestoppers at 1-800-222-8477. The City thanks the public for their assistance in this matter.
Strategic Link: n/a
Key Points
A passerby alerted the City of the dump site in the 3700 block of Shenton Rd just past 6:30 am on August 26, 2018.
City crews were called in and were able to clean up the 3,400 kilograms of waste dumped on the side of the road.
Anyone with information who wishes to remain anonymous, may contact Crime Stoppers at www.nanaimocrimestoppers.com or at 1-800-222-8477.
Quotes
Images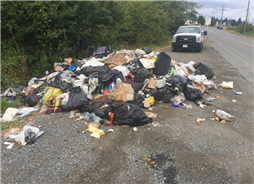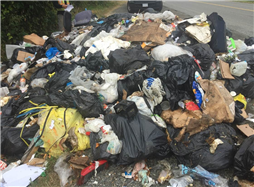 -30-
Contact:
Dave LaBerge
Manager of Community Safety
City of Nanaimo
250-755-4466