Nanaimo's Parks are Alive with the Sound of Music
Concerts in the Park run July 3 - August 29
NEWS RELEASE - Distributed June 13, 2018 8:00 AM
City of Nanaimo Parks and Recreation are pleased to announce the popular summertime Concerts in the Park series is back for 2018. A line up of afternoon and evening toe tapping performances have been confirmed.
"Pack up your picnic baskets, grab a lawn chair and come join us at Maffeo Sutton or the Bowen Park Amphitheatre to listen to some incredible local talent," said, Deb Beck, Recreation Coordinator, "There are so many music styles to choose from including blues, latin, rock, pop, celtic and more!"
Afternoon concerts are held Tuesdays 12:30 - 1:30 pm in Maffeo Sutton Park in July and at Bowen Park Amphitheatre in August. Evening concerts are held Wednesdays from 6:00 - 7:30 pm in Bowen Park Amphitheatre in July and Maffeo Sutton Park in August.
The first concert will kick off on July 3. For a full schedule and entertainer line up, visit www.nanaimo.ca/recreation-parks/parks-events and follow City of Nanaimo on Facebook for schedule links and reminders.
Images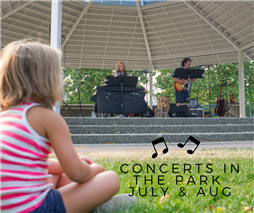 -30-
Contact:
Deborah Beck
Recreation Coordinator
Cit of Nanaimo
250 755-5203