Get ready to Sort Toss and Roll!
NEWS RELEASE - Distributed May 23, 2018 9:00 AM
Summary
The new automated solid waste collection service "Sort Toss Roll" is coming to North and South Nanaimo this summer.
Residents in central Nanaimo have been enjoying the new service since fall 2017.
If you would like more information about the program please visit www.Nanaimo.ca/goto/SortTossRoll or visit one of four information displays that have been set up in City facilities.
Link to Strategic Plan: Commitment to being an excellent municipal government.
Key Points
The information displays are available until 13 July and are located at: The Nanaimo Aquatic Centre, The Service and Resource Centre, Bowen Park Complex and Oliver Woods Community Centre.
The displays provide information on items including: an overview of the new program, how much it will cost and what can go in each cart. The displays also each feature an actual set of wheeled carts so that residents can see, touch and manoeuvre the carts before they are delivered to their homes.
Quotes
Quick Facts
The Sort Toss Roll project will begin in North and South Nanaimo this July. Cart deliveries will begin to homes in these areas on June 11th and will be complete by July 21st.
Residents do not need to do anything, your carts will be delivered to your address about two weeks before you need to begin using them. A complete information pack detailing how to use your carts will be delivered alongside them.
Everyone in Nanaimo will receive a new waste collection schedule in June. If you live in either North or South Nanaimo please check that schedule carefully, it will indicate when you are to begin using your new carts.
More information can be found at Nanaimo.ca/goto/SortTossRoll or by calling the Sort Toss Roll hotline on 250 756 5309 or emailing SortTossRoll@Nanaimo.ca
Images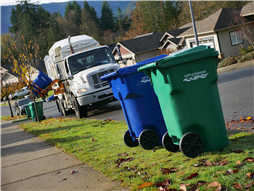 -30-
Contact:
David Thompson
Manager of Sanitation, Recycling & Public Works Administration
City of Nanaimo
250-758-5222