Find the Golden Bucket in Your Local Parks
NEWS RELEASE - Distributed April 30, 2018 9:00 AM
Summary
The City of Nanaimo Parks and Recreation department invites adventurous residents to 'Search for the Golden Bucket' hidden in a different City park each week. Starting May 2, clues to the hidden bucket location will be posted. After solving the clue, residents are then encouraged to go to the location and search for the bucket. Once the bucket is found, participants will read the question inside the bucket and email the answer to parksandrecreation@nanaimo.ca to be entered to win.
Clues will be posted on the City's Facebook page, Twitter feed, website and at recreation facilities on Wednesday mornings. Answer to the question in the bucket, should be submitted before the following Tuesday in order to be entered into weekly and grand prize draw. The last clue will be released on July 25th .
Strategic Link: Search for the Golden Bucket Contest supports a recreation and leisure lifestyle as identified under the Cultural Vitality pillar.
Key Points
Weekly clues will be posted online and at recreation facilities on Wednesdays from May 2 through July 25.
Once you find the bucket, answer the question found inside.
Submit your answers to parksandrecreation@nanaimo.ca by the following Tuesday.
Correct answers submitted will be entered to win a weekly prize of a limited edition water bottle, reflective light and a Parks and Recreation courtesy pass. They will also be entered for the grand prize, a sunset Kayak tour for 5 people courtesy of Coastal Expression Adventure Centre, valued at $300.
Quotes
Images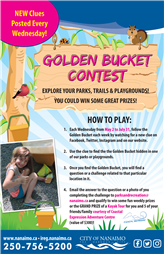 -30-
Contact:
Deborah Beck
Recreation Coordinator
City of Nanaimo
250-756-5203