Name that garbage truck contest enters second round
City invites residents to give two new garbage trucks a name
NEWS RELEASE - Distributed September 25, 2017 1:30 PM
Summary
The City of Nanaimo's name that garbage truck contest is entering into the second round of voting.
City staff have shortlisted from around 1,500 submissions from members of the public down to a list of 10 truck names; 5 for each truck.
Residents are now invited to vote on the shortlist of names and select a name for each of the trucks. The second round of voting will be open from 25th September to 2nd October.
The winning names will be unveiled in a naming ceremony by Mayor McKay.
The Short listed names are:
Truck 1
Arm-a-gettin'
Ultra Garbatron
Trash-O-Saurus Rex
Nom Nom
Waste Warrior
Truck 2
Harbour City Crusher
Mommy
Sanitary Claws
Professor Trashy
Crushasaurus Rex
Special mentions go to "Truck Norris" "Optimus Grime", "Obi One Can Only" and "Art Garbagefunkle"!
Link to Strategic Plan: Taking responsibility to be an excellent municipal government.
Key Points
You may vote once for your favourite truck names.
Vote for your favourite names at www.nanaimo.ca/goto/NameTheGarbageTrucks
The two winning entrants will be invited to Public Works for an official naming ceremony and will each receive the grand prize of a six month family Rec Pass or a 12 month individual pass.
Quotes
Quick Facts
The City has two new automated garbage trucks going into service in late October serving central Nanaimo, the rest of Nanaimo will receive automated collection services in summer 2018.
The trucks have two separate chambers inside meaning they can collect two different types of waste at one time: garbage and organics one week and recycling and organics the next week.
The trucks are powered by Compressed Natural Gas (CNG) and are expected to produce 25% less green house gas emissions compared to the current garbage trucks which run on diesel fuel. This will also save around 50% on fuel costs. Using CNG means the trucks will be much quieter.
Carts will be delivered to homes in Central Nanaimo between 10-27 October. Homes in this area will begin to receive the new service between October 23rd and November 3rd. Residents don't need to do anything. Carts will be delivered automatically in advance of their first automated collection day.
Images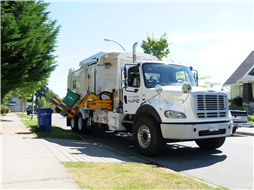 -30-
Contact:
Charlotte Davis
Manager of Sanitation, Recycling and Public Works Administration
City of Nanaimo
250 758 5222