Name that garbage truck!
City invites residents to give two new garbage trucks a name
NEWS RELEASE - Distributed September 1, 2017 12:13 PM
Summary
The City of Nanaimo has two new automated garbage trucks that will be hitting the streets soon and is looking for inspiration from residents to give them a name.
The contest is open to entries from September 1 to 22 after which a shortlist will be made. Residents can enter online via the City website or in person at the upcoming Nanaimo Recycles Trunk Sale on September 9.
The two winners will be picked in a second round of voting by the public between September 25 and 29. All entries are welcome and will be entered into a draw to win a Parks and Rec "Rec Pass". A link to where names can be submitted is available on the online version of this news release. The competition is open to all residents of Nanaimo and the only rule is to be original!
Link to Strategic Plan: Taking responsibility to be an excellent municipal government.
Key Points
There is no limit to the number of times you can enter the contest.
The two winning entries will also be invited to Public Works for an official naming ceremony and will each receive the grand prize of a six month family Rec Pass or a 12 month individual pass.
Need inspiration? Take a tour of one of our new trucks at the upcoming Nanaimo Recycles trunk sale on Saturday, September 9 at the Curling Club on Wall Street (you will also be able to enter the contest at the event).
Quotes
Quick Facts
The City has two new automated garbage trucks going into service in late October serving central Nanaimo, the rest of Nanaimo will receive automated collection services in summer 2018.
The trucks are powered by Compressed Natural Gas (CNG) and are expected to produce 25% less green house gas emissions compared to the current garbage trucks which run on diesel fuel. This will also save around 50% on fuel costs. Using CNG means the trucks will be much quieter.
The trucks will pick up and empty carts using a mechanical arm controlled by a joystick inside the cab of the vehicle.
The trucks have two separate chambers inside meaning they can collect two different types of waste at one time: garbage and organics one week and recycling and organics the next week.
Images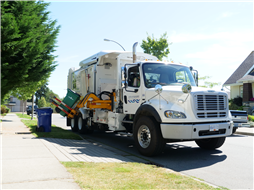 Attachments
-30-
Contact:
Charlotte Davis
Manager of Sanitation, Recycling and Public Works Administration
City of Nanaimo
250 758 5222