Nominations for Nanaimo by-election are being accepted
One Councillor will be elected July 8, 2017
NEWS RELEASE - Distributed May 15, 2017 9:30 AM
Summary
Nomination packages are now available for pick up from the Legislative Services Department. Those interested and qualified to run in the upcoming July 8 by-election must submit their completed nominations and deliver them to the City's Legislative Services Department by hand, mail or other delivery service by June 2, 2017 at 4:00 pm.
Each candidate must be nominated by at least two "qualified" nominators. To be a qualified nominator, they must be electors of the City of Nanaimo.
Link to Strategic Plan: n/a
Key Points
The Legislative Services Department will accept by-election nominations between 9:00 am - 4:00 pm, Monday to Friday (excluding statutory holidays and weekends) until June 2, 2017 by appointment only.
A person is qualified to be nominated, elected and hold office if they are a Canadian citizen, 18 years of age or older on general voting day (July 8, 2017), a resident of BC for at least 6 months before the day nomination papers are filed, and not disqualified by any enactment from being nominated for, elected to or holding the office of the municipality, or otherwise disqualified by law.
Quotes
Videos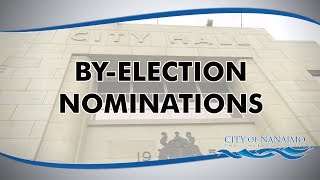 Links
-30-
Contact:
Sheila Gurrie
Acting City Clerk
City of Nanaimo
250-755-4405