Terminal Avenue Utility Upgrade Project to start April 10
Drivers advised of possible delays
NEWS RELEASE - Distributed April 5, 2017 9:00 AM
Summary
The City of Nanaimo is advising drivers of upcoming construction on Terminal Avenue that may impact their commute. Starting Monday, April 10, crews will be working on Terminal Avenue from St. George Street to Stewart Avenue to upgrade utilities. As part of a larger utility upgrade project, work on Terminal Avenue is expected to be complete in July 2017.
During this time drivers can expect traffic patterns changes along the corridor as required to complete the work. Periods of night work are also expected in June and July. Drivers are asked to use caution and obey all signage and traffic control personnel.
For more information on this project please see the link provided in the online version of the news release.
Strategic Link: Upgrading City utilities supports the Asset Management priority.
Key Points
During construction, two way traffic will be maintained throughout the day while single lane alternating with delays and/or detours will take place at night.
All businesses are open throughout construction and access to them will be maintained.
The Terminal Avenue Utility Upgrades Project consists of five zones starting with Terminal Avenue from St. George Street to Stewart Avenue. The entire project is expected to be complete by November 2017.
Quotes
Quick Facts
The Terminal Avenue Utility Upgrade project also includes upgrades to utilities on Cypress Street, Mount Benson Street, Dawes Street, Bradley Street, Holly Street and Wall Street.
The project will include replacement of approximately 300 metres of water main, 1400 metres of sanitary sewer main and 675 metres of storm sewer main in preparation for paving of Terminal Avenue expected in 2018.
Images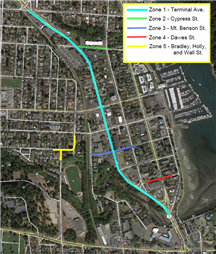 -30-
Contact:
Michael Strain
Construction Project Manager
City of Nanaimo
250-756-5328