Winter Wonderland is Sweeter Than Ever
NEWS RELEASE - Distributed December 19, 2018 1:00 PM
Summary
The City of Nanaimo Parks and Recreation department is pleased to bring back the popular Winter Wonderland skating event running from December 26 to 30.
Frank Crane Arena in Beban Park will be transformed into a Candyland theme featuring twinkle lights, seasonal music, a 40-foot Christmas tree and candy decor. Activities over the five days include $1 skating sessions with some free sponsored sessions included, free helmet and skate rentals throughout and a Kinsmen Pancake Breakfast on December 27.
Sponsors for Winter Wonderland include: Archie Johnstone Plumbing and Heating, Belzona Industrial Protective Coatings and Composites, Caledonia Fire Protection, Cimco Refrigeration, Coastal Drain Service (Roto-Rooter), Cornerstone Tile, J. Cross & Co, Ltd., Herold Engineering, Island Radio, Long Lake Physiotherapy, Miranda Construction, Nanaimo News Bulletin, Pepsico, Ryan Vending, Shaw Electrical Services, Tim Hortons, Vancouver Island University and Windley Contracting.
Strategic Link: Cultural Vitality, Community Building Partnerships
Key Points
This yearly event takes place thanks to partnerships between the City of Nanaimo and various local businesses and is a way to say "thank you" to the community and give everyone, regardless of age, skating ability or economic circumstances, an opportunity to enjoy skating.
A Kinsmen Pancake Breakfast on December 27 from 9 am - 12 noon, sponsored by J. Cross and Company, Ltd and Nanaimo Kinsmen Club is free or by donation.
Quotes
Images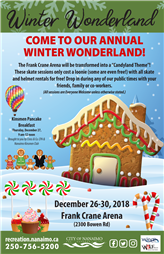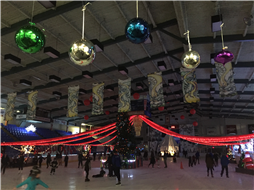 Links
-30-
Contact:
Gary Paterson
Recreation Coordinator - Arenas
City of Nanaimo
250-755-7536